Practical guide to develop modern rhythms using traditional afro-caribbean styles.
Raíz is a practical guide where I show the drummer my personal fusion of funk with traditional Afro-Puerto Rican rhythms like plena and bomba, as well as other Afro-Caribbean beats. Along with these rhythmic fusions, I include preparatory and coordination exercises to support in the fundamental understanding of each pattern. This approach will aid in learning the stylistic language of these rhythms, getting to the root of them and facilitating their fluency.
Raíz es una guía práctica en la que enseño al baterista mi fusión personal del funk con los ritmos de plena, bomba y otros ritmos del Caribe. Junto con estas fusiones, incluyo ejercicios preparatorios y de coordinación, a fin de que el lector aprenda cada ritmo presentado de manera fundamental. Esto lo ayudará a entender el idioma de cada estilo, llegar a la raíz de cada uno y facilitar su fluidez.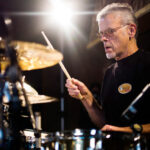 "My compliments to Efraín for his work. I've been greatly influenced by the music of Puerto Rico, and now everyone gets a detailed and creative look at a modern and accessible approach to learning these rhythms on the drum set. Maestro, thank you…!!!"
DAVID GARIBALDI  •  Legendary drummer of Tower of Power, PlanetDrum, Wishful Thinking. Author, clinician and educator.
EFRAIN MARTINEZ, born in San Juan, Puerto Rico, interest in music dawned on him early and at age 13 he began formal training on the drumset. His rapid development on the instrument allowed him to begin his professional career as a session drummer for many latin gospel and sacred music albums, most notably with singer René González.
He continued his musical training under former Sammy Davis Jr. band and Mongo Santamaría drummer Tony Sánchez. It was during this period that his interest and development in jazz took him to New York City for a year and half to work with artists like John Benitez group, Ron Affif Trio and percussionist Papo Pepín among many others.
Upon his return to Puerto Rico he continued his studio work and live performances with many latin pop artists including a year-long international tour with latin diva Olga Tañón. His sought-after skills and musicality led him to many important collaborations with high caliber musicians such as Steve Khan, Eddie Gómez and Jerry González, placing him among the most respected drummers in Puerto Rico.
Recent collaborations include Viento de Agua, Hip Hop artist Tego Calderón, Vico C, lounge/electronica artist MIMA, recordings with new jazz artists like saxophonist Luis Rodríguez (Fresh Sound records), Holograma Quartet (M.A. Productions/Pollymood Records), Ricardo Pons' Causa Común project, Holograma quintet, and presentations in venues like the San Juan Heineken Jazz Fest, Dominican Republic Jazz Festival, Barranquilla Jazz Fest, Curacao Jazz Fest, Faot Music Fest in Mexico, National Public Radio Philadelphia (NPR), Manhattan's Joe's Pub and Brooklyn Theatre et al. He also has done clinics and concerts in South America with the United States Embassy Music Education Program. Sponsored by: Yamaha drums, Zildjian cymbals, Meinl drumsticks and Evans drumheads.
Album recordings:
El Laberinto del Cocó (2017)
Jerry Medina: La timba dura (2014)
Viento de Agua: Opus V (Grammy nominee)
Holograma Quintet: Origen (2014)
Mima: El Pozo (2012)
Cultura Profética: La dulzura (2011)
Viento de Agua: Fruta Madura (2010)
Holograma Quartet (2008)
Cultura Profética: Mota (2006)
Luis Rodríguez Quartet: U-Turn (2006)
Mima (2005)
Ricardo Pons CausaComún: Segunda Piel (2003)
Lissette: Live (2001)
René González: Nada es Imposible (1995)